Founder and Artistic Director - Rhonda Kohl
Rhonda is a native of North Dakota, but has spent her life in search of warmer climates. She has been directing, choreographing, and teaching for the stage for the last ten years.
She currently works as a director, choreographer, and adjunct professor for Azusa Pacific University.  Her training includes a Master of Fine Arts in Acting and Directing from Regent University, as well as SAFD Certification in 2007 as an actor combatant. Currently a member of the Actors Coop in Hollywood, her personal performance history ranges from theatres to film companies in Los Angeles, as well as North Dakota, Minnesota, Virginia, and Texas. She has appeared in a variety of commercials, award-winning short films, and cable television programs. Previously, she taught for Regent University, as well as choreographing and directing shows.
She was a key member in launching Regent's successful annual summer theatre camps. In addition to production work, she enjoys private tutoring and actor coaching with young actors. Because of her leadership and teaching positions, she's had the blessing of mentoring and investing in many students' lives. She believes the personal relationships and connections she has formed with these students are as valuable as any other accomplishment during her time.
Teaching Staff
---
Catherine Gray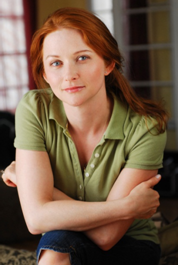 Originally from Albuquerque, NM, Catherine studied theatre at Texas Tech University.   Upon graduation, she joined the resident acting company of the Barter Theatre in Virginia where she performed in over 40 shows.  After moving to L.A. five years ago, Cat produced the exercise video series Empowering Pilates for Teens (www.empoweringpilates.com).  She is also an award-winning playwright for young audiences, having written a dozen produced plays.  In 2007 she produced two short films directed by her husband, Lucky Penny and Glass Eye, which were screened on the FOX reality television show "On the Lot", helping her husband win the grand prize! They both agree, however, that their greatest achievements are their two gorgeous daughters, Khara and Lily.
Favorite roles include Mina in Dracula, various crazy Elvis fans in the three-person show Idols of the King (opposite Elvis impersonator legend Scot Bruce), Amalia in She Loves Me, Marc Antony in Julius Caesar, Lady Macduff in Macbeth, Sally Tally in Tally's Folly, and Cecily Cardew in The Importance of Being Earnest.
Tannis Hanson
Tannis received her MFA in Acting at California State University, Long Beach. She currently teaches undergraduate acting classes at Vanguard University in Costa Mesa. She has also spent five summers teaching drama to children and young adults at the Denver Center Theatre Company in Colorado.
Tannis has been acting for and alongside children since she was nine. Her favorite theatre credits: The Diary of Anne Frank (Anne); Peter Pan (Peter); Into the Woods (Milky White); The Last of the Red Hot Lovers (Bobbi Michelle); Panama; Shakespeare 72; Ivona, Princess of Burgundia; and Pilgrims. She also appeared in the Central Coast Shakespeare Festival's productions of A Midsummer Night's Dream (Hermia) and As You Like It (Phebe). Currently, Tannis is also a member of the Actor's Co-op in Hollywood. Her film and television credits: Let Me Count the Ways (supporting), Disposable (supporting),   The Three-Body Solution (starring), and Unsolved Mysteries (supporting). Tannis loves working with children and believes that the skills learned in acting classes help to advance kids to another level of thinking by helping them to develop their imagination and concentration skills.  The work in class allows children to not only embody a spirit of playfulness in their work, but it helps them to build up confidence in themselves and their instincts as they grow and mature as actors and individuals.
Tara Battani Bowles
Tara holds a BA in Theatre and a minor in Communication from St. Edward's University in Austin, Texas.  She taught at Dancer's Workshop for two summers and Tapestry Dance Company, both in Austin.  She led five classes a day during the summer, Monday through Friday, at DW, from ages 3-17, and taught them to sing, dance, and act.  Every week was a different "theme" and the "show" (consisting of scenes and musical numbers) was showed to the parents every Friday night to echoes of praise.  Tapestry Dance Company had dancers from ages 7-14, where Tara taught them to sing, dance, and act in musical numbers as well.  Both companies offered her full time positions that fall, which Tara declines as she was moving to Los Angeles to pursue acting.  She loves teaching, however, and looks forward to doing it again!
Dan Roberts
Born and raised in Pittsburgh, Daniel began his professional acting career in 2002 as a touring actor and educator with Saltworks Theatre in Western Pennsylvania.  Since then, his passion for acting has led him across the country – first to Virginia, where he received his MFA in Acting at Regent University, and finally to Los Angeles, where he has made his home since 2007.
Daniel has acted in films, webisodes, commercials, and a broad array of theatrical productions, both on the east coast and in L.A.  Films include HAPPY NEW YEAR, TWILIGHT RAIN, the TV movie LIFE'S OTHER SIDE, and the musical SUDDEN DEATH! On stage, some of Daniel's favorite experiences include roles in WIT (LA Weekly winner for Best Revival Production), KING LEAR, LEADING LADIES, TWELFTH NIGHT, PEER GYNT, AN INSPECTOR CALLS, MUCH ADO ABOUT NOTHING, THE FOREIGNER, and THE CRUCIBLE (LA Weekly nominee for Best Supporting Actor).  He is currently a member of Actors Co-op in Hollywood.
Alongside acting, Daniel has spent many hours sharing his knowledge and passion for the craft with children and teenagers.  He spent three summers as a teacher for Saltworks Young Actors Studio in Pittsburgh, followed by three more summers at Regent Theatre Camp in Virginia Beach.
You can contact any our staff at hollywoodyouththeatre@gmail.com