---
Upcoming Events
Where: Fellowship Church in Downtown Burbank
When: Two Saturdays, November 3rd and 10th from 1pm – 4pm
Cost: Only $15!
Learn the elements to creating a great script for the stage. Try your hand at writing a scene and having others in the class read your script aloud. Then leave the workshop with a list of young play writing competitions to which you can send your creation.
* Saturday #1 – We'll cover the principles and techniques of playwriting and story structure
* Saturday #2 – We'll all share our scenes we've written and get feedback from the class
About the Instructor
Catherine Gray is an award-winning playwright and actress currently living in Los Angeles, CA. Her first play was produced professionally in 1996 and since then, her plays have been performed in theatres across the country. Some of her titles include The Velveteen Rabbit, The Littlest Angel, A Duck Called Ugly, A Beatrix Potter Christmas, The Pied Piper of Haemlin and Abe: the Story of Abraham Lincoln. As an actress she has performed in over 75 shows, her most recent being The 1940's Radio Hour at The Actors Co-op in Hollywood as well as the national tour of Miracle on 34thStreet.

---
Previous Workshops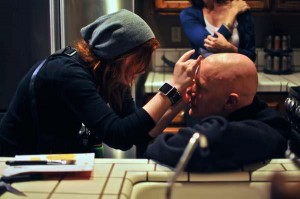 Monster Make-Up (Ages 8-18)
Learn the art of creating your favorite "monster" looks for stage or film with make-up artist Brittany Lauren Woodside. All skill levels welcome!
About the instructor:
Freelancing out of Los Angeles, Brittany Lauren Woodside has had the opportunity to work on a wide array of projects. Working on features films to commercial work, she specializes in natural and character makeup. Earlier this year while working on the horror feature, "Compound Fracture", she was able to work with are Derek Mears ("Jason" in Friday the 13th), Muse Watson ("Ben" in I Know What You Did Last Summer), and Renae Geerlings ("Deputy Gwynne" in Halloween II). She is also apart of several character projects where she is the department head in charge of creating zombie and ghost like characters. When she isn't on set, she is sharing her knowledge on the blogs Monsters & Mayhem (www.brittanylaurenmua.tumblr.com) and Makeup by Brittany Lauren (www.makeupbybrittanylauren.com) . To check out more of her work, check out her website www.brittany-lauren.com
---
Voice-Over Workshop
Learn what it takes to perform in the fun world of animation voice over from a real pro. Voice actor, Mick Wingert (Kung Fu Panda: Legends of Awesomeness) leads young performers through an introduction into making the most of all the voices in their heads. Participants will learn essential skills, from acting in front of the microphone to techniques for developing characters from a variety of voices.
Participants must have strong "reading out loud" skills. Materials, snacks, and water will be provided.  The workshop will be held at Fellowship Church in Burbank.